The Art Fair that Brings Global Art Community Together – In Conversation with Untitled Art's Jeffrey Lawson
Por Eli Anapur | WIDEWALLS | 15 Nov. 2022
The leading independent contemporary art fair, Untitled Art, will present its 11th edition during Miami Art Week this November. With over 140 exhibitors and strong programming, the fair continues to break new ground in the art fair world. The upcoming edition arrives with exciting new presentations by an international group of leading and undiscovered contemporary artists and will feature compelling booth presentations, site-specific installations, and performances.

Eli Anapur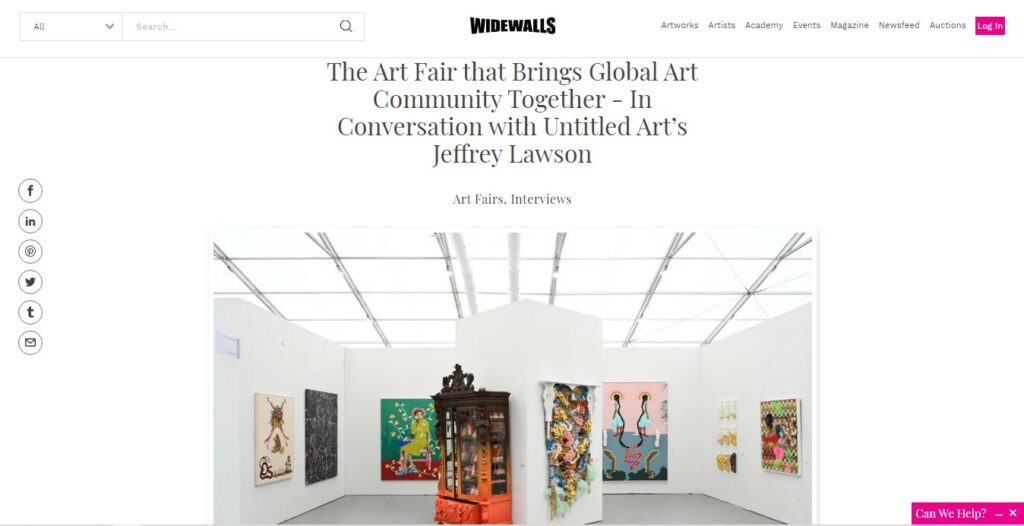 The leading independent contemporary art fair, Untitled Art, will present its 11th edition during Miami Art Week this November. With over 140 exhibitors and strong programming, the fair continues to break new ground in the art fair world. The upcoming edition arrives with exciting new presentations by an international group of leading and undiscovered contemporary artists and will feature compelling booth presentations, site-specific installations, and performances.
With an expanded curatorial platform spearheaded by Artistic Director Omar López-Chahoud, Untitled Art 2022 aims to support the wider art ecosystem and collaboration across the local and global art community. Besides assisting artists and galleries with the newly established prizes (six in total), the fair will also help young and emerging galleries by providing subsidized booths to 21 participants and will offer a collective art space to artists with intellectual and developmental disabilities to expand their practice.
We had a chat with Untitled Art's Founder and Director, Jeffrey Lawson, to find out more about the upcoming edition, its highlights, the focus it puts on new and upcoming voices in art, and the exciting special programming that will spill over the fair's grounds and engage wider audiences.
Untitled Art 2022 takes place during Miami Art Week, from November 29th to December 3rd, 2022.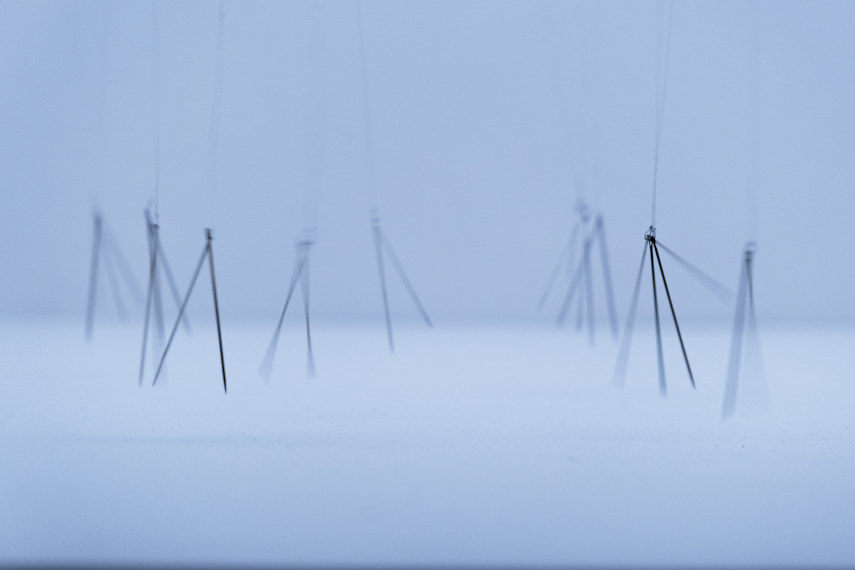 The Art Fair that Facilitates Discussions
Widewalls: You founded Untitled Art back in 2012. How did you decide to venture into this, and how has the fair evolved over the years?
Jeff Lawson: By 2012, I'd been going to fairs multiple times a year for over a decade. At the time, I remember thinking that, for the most part, every fair felt the same. It was clear that there was a gap in the art fair ecosystem that needed to be filled by a curatorially-led fair. So that's how Untitled Art came to be.
We've introduced several exciting initiatives over the years. For example, in 2021 – for our 10th edition – we introduced 'Nest,' a progressive sector that will return for a second year in 2022 in support of young and emerging galleries. Developed in response to the economic impact of the pandemic, 'Nest' provides subsidized booths to 21 emerging galleries and non-profits to mitigate the traditional entry barriers associated with art fair participation.
For this year's edition, we have reignited the 'writers-in-residence' program through the launch of Untitled Edit, to support arts writers and the advancement of art criticism.
Widewalls: Untitled Art returns to Miami this November with the most international presentation to date, welcoming over 140 international galleries and non-profit arts organizations. Could you walk us through some of the highlights?
JL: We're excited to see the number of international galleries increasing with each edition. I think it really speaks to the ethos of our fair. The fair's curation will facilitate interesting juxtapositions and discussions between galleries, artists, and non-profits from 31 countries.
New non-profit participants in this year's edition include Arts of Life/Circle Contemporary, an exhibition space in Chicago, and Glenview providing artists with intellectual and developmental disabilities a collective space to expand their practice.
Florida-based Long Road Projects, an artist residency program and publishing house that serves as an integral platform for artistic experimentation, community engagement, and education, is also participating this year.
Her Clique, an organization founded with a mission to celebrate and promote women artists, will release three editions by 2022 exhibiting artists, with proceeds donated to charity.
The Concept
Widewalls: Spearheaded by Artistic Director Omar López-Chahoud, the fair's programming will tackle topics from the environment, to race and diversity, to artificial intelligence. Could you tell us more about the curatorial concept and how it will be reflected throughout the fair?
JL: The 21 'Nest Sector' booths will appear throughout the fair, instead of in their own special section, as part of the curatorial narrative conceived this year by Omar López-Chahoud. It allows for and encourages conversation between organizations and artists at different stages and places. There's always a thread that ties them together. Commencing as part of this year's fair, in a continued effort to amplify diverse voices, we will select one participating gallery annually to present a special solo booth highlighting the work of an older or deceased artist who has made an important contribution to contemporary art discourse.
This year's selected gallery is Galerie Christian Lethert (Cologne, Germany), exhibiting the work of 82-year-old artist Imi Knoebel, a German painter, and sculptor known for his contributions to and shaping of 20th-century Minimalist abstract art.
The Prizes and the Monuments Series
Widewalls: This year, the fair will inaugurate six new prizes that will be awarded to participating galleries and artists. Could you tell us more about this aspect of the fair? JL: We're very excited about the inauguration of these prizes. Vortic, the VR and AR art platform, will be awarding the 'Nest Prize.' Two of the prizes revolve around acquisitions.
21c Museum Hotels will select works to acquire for their collection, and the international art project Colección Solo will buy up to three pieces for its prize. CCA Andratx will choose an artist for a one-month residency in Mallorca, Spain. The Last Resort Artist Retreat, founded by Derrick Adams, will select an artist of African descent from Latin America and the Caribbean for its first residency cycle next year. And Pébeo will award an artist with in-kind materials and a cash-hybrid prize to produce an institutional exhibition in 2023.
Widewalls: As part of the Monuments series, the fair will present a range of works around the city outside of its main venue. What can the audience expect from this section, and why do you think engaging the wider public in this way is important?
JL: Being independently owned, we're able to be more experimental, flexible, and collaborative in our programming and approach. We can present fresh ideas and new programs and work with up-and-coming artists and galleries. Each year we aim to surprise and excite our visitors and provide a platform for discovery; exhibiting beyond the physical walls of our fair helps realize this.
An Art Fair That Focuses on Collaboration
Widewalls: The fair prioritizes collaboration within each aspect of the fair. Why is the collaborative framework important for Untitled Art?
JL: We've found that collaboration is more important than ever as our exhibitors and partners across all aspects of the art world ecosystem recover from the impacts of the pandemic. In response to the challenges people are facing across the art community and the growing commercialization of the art world, we are focusing on collaboration and inclusivity and providing a space for collectors, art historians, curators, writers, and academics to interact, learn, and discover.
Widewalls: Going forward, what would be your ideas for the next editions? Do you plan any changes to the current format or concept of the fair?
JL: We are always looking into expanding and reaching new audiences and attracting new galleries and artists. At the same time, it's very important for us to continue to support our current exhibitors and artists and grow opportunities for our fair year-round, not just during Miami Art Week.